The Yorkshire terrier has shaken off its common canine status and nudged its shiny black nose into first place of the American Kennel Club's Registrations for toy dogs. This little gold and blue dog, with its signature silky mane and charming personality, is the top dog in the toy group. The Yorkshire Terriers current most popular ranking may be based in part on their being a small dog with a big-dog personality.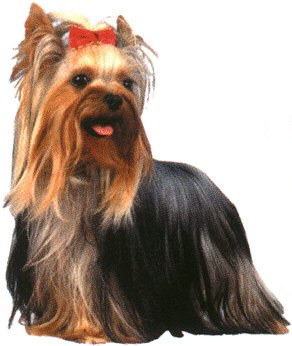 The Yorkshire terrier's current sitting-pretty ranking may not be a surprise to many of its long-time fans, who more fondly refer to it as the Yorkie, but what may be a surprise is the dog's rags-to-riches history—literally. In late eighteenth-century Yorkshire, England, this tiny terrier was often used as a "towel." The Yorkie's non-shedding coat was perfect for absorbing the oils that would build up on the hands of wool weavers. As it spent most of its days prowling around the mills, encouraged to run loose and scare off vermin, the dog was constantly available to the wool weavers— as a "towel", if you will—and thus continued to receive a top-notch conditioning hair treatment that produced a remarkably lustrous coat. Dog breeders eventually took note of this uniquely beautiful trait, and capitalized on it until the Yorkie became a distinct breed. The Yorkie grew in popularity as a house pet in Victorian England and came Stateside shortly thereafter. The Yorkie has continued to attract new admirers, including Richard Nixon, Helen Hayes, Lauren Bacall and Audrey Hepburn, whose Yorkie named Famous given to her by husband Mel Ferrer graced the big screen in Funny Face. New York Post columnist Cindy Adams has released her new book The Gift Of Jazzy. The story of her love affair with Jazzy a spoiled 5 pound male Yorkie.
Today's renewed coveting of the breed is to its toy size. All small dogs are becoming more popular as we urbanize. And Yorkies are a small dog with a big-dog personality. They are so outgoing and sure of themselves—spunky.
If you're interested in bringing a Yorkshire terrier into your life, first remember that it is a long-term commitment. Yorkies have a life span of 14 to 15 years; we were lucky enough to have one wonderful little girl with us for 16 ½ years. As the breed has become so popular, it is also highly advised that you conduct the necessary research to locate a reputable breeder. A breeder, who carefully screens the parents of litters for congenital diseases and provides the necessary preliminary shots, health tests and support throughout the dog's life should you need it.
Potential owners should be aware of a few misperceptions' people new to the breed often have. First of all, while it is no surprise that this dainty dog might be able to nap in a teacup, any breeder who claims to have teacup Yorkies is misrepresenting them. Yorkies only come in one size, weighing between four and seven pounds. One of the biggest misperceptions with the breed is that it is a girly breed. As a breeder, I see this all the time wives drag their husbands here to
look at a puppy and the husbands stand there, thinking they don't want such a little dog. And you would be amazed at how often the dog ends up becoming the husband's dog.
New owners need to make sure their lifestyle is right for a Yorkie. While the Yorkie coat is relatively easy to maintain, it does require regular combing, trimming and bathing. It's important to remember that while the courageous, lively temperament of the Yorkshire Terrier is what gives it a distinctive grand personality. This temperament will also bring out a bit of the noisy watchdog in this canine. A Yorkie will let you know every time a package arrives at the door or the newspaper is dropped off.