The Last Battle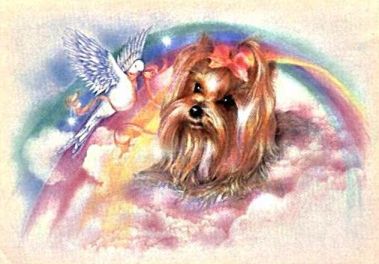 If it should be that I grow frail and weak, and pain should keep me from my sleep.
Then will you do what must be done, for this -- the last battle -- can't be won.

You will be sad I understand, but don't let grief then stay your hand.
For on this day, more than the rest, your love and friendship must stand the test.
We have had so many happy years; you wouldn't want me to suffer so.
When the time comes, please, let me go.

Take me to where to my needs they'll tend,
stay with me till the end;
and hold me firm and speak to me until my eyes no longer see.
I know in time you will agree it is a kindness you do to me.
Although my tail its last has waved, from pain and suffering I have been saved.
Don't grieve that it must be you who has to decide this thing to do;
we've been so close -- we two -- these years.
Don't let your heart hold any tears.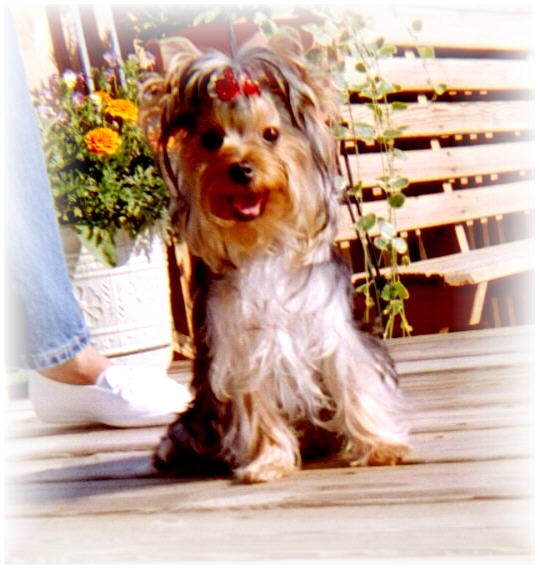 Mia as a puppy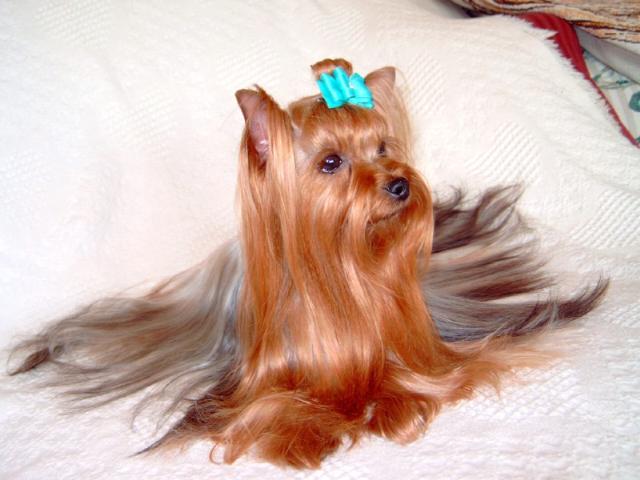 Mia

Our darling Mia crossed over the rainbow bridge in April 2006. She was a great ambassador for the breed; the perfect little yorkie, always a happy girl. She loved sleeping on the steps going up to my bedroom; from there she could see out the front door always ready to greet visitors with her wagging tail and sweet yorkie kisses.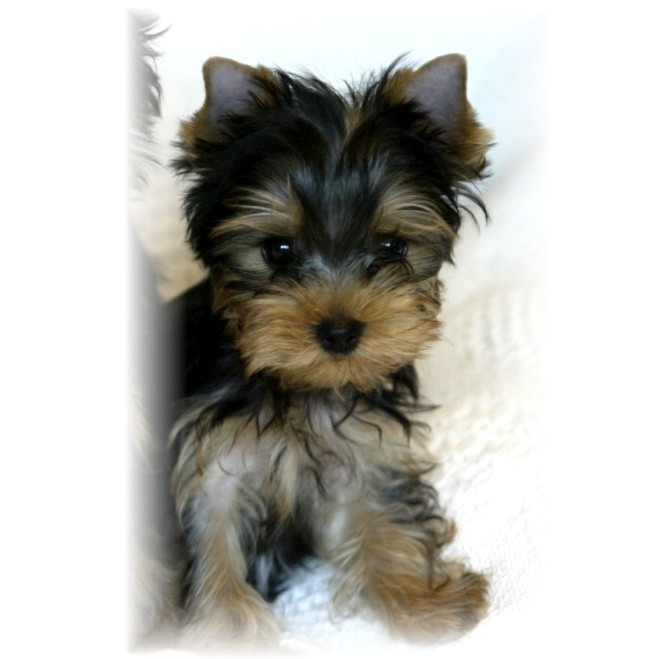 Baby Tucker at 11 weeks old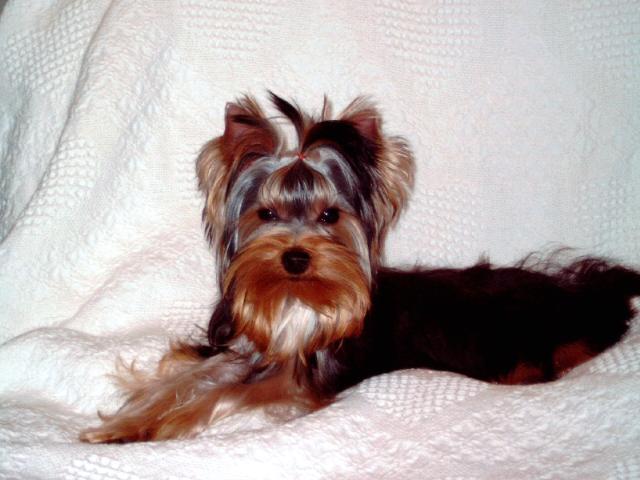 Tucker at 6 months old

This darling little male puppy was adopted by a family in Des Moines, Iowa. Tucker had been living with the family for a few months when I received this note from his mom.
Leeann,,,,it started out to be such a good day the sun was shining and all was right with the world until we lost little Tucker,,,he was such a happy little pup and he was on my sons shoulder so excited to go in the car and jumped off and hurt his head,,,,my son ran him to the vet and it was to late. He was the sweetest little thing in the world,,,and we are all sick over the loss...he developed into the best little dog with the personality the size of a German Shepard,,,,,its only been several hours and the adult in me knows we will realize he's in a better place and he did not have to suffer, it did happen very fast,,he had a slight accident about a month ago and jumped on my leg only a couple of feet and lost his balance and fell and gave us a good scare,,,he was out for a few seconds and then took quite some time with us all so frantic for him to come around again,,,my children are devastated and my other pup will soon be very lonely,,,, I am sorry to have to give you this bad news and we thank you for the short time you shared little Tucker with us.
Never, Never

put a puppy in a situation that they can hurt them selves. Puppies are just like small children they depend on us to keep them safe. Had the owners put Tuckers safety first this awful accident would have never happened.
Luv-N-Stuff Watch My Parade "Maggie"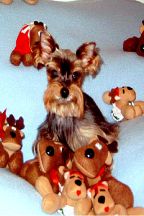 Our sweet Maggie at 15 years old

Maggie came into my life in November of 1990 a squiggly 5 month old baby Yorkie. From the moment she walked into our home I knew she was a special little girl. Maggie's registered name was Luv-N-Stuff Watch My Parade and that was Maggie's attitude "Watch My Parade" and I will show you what a yorkie princess is supposed to act like. I can pick up 3 squeak toys at the same time because if I leave one on the floor one of the other girls might try to take it and ALL THE TOYS ARE MINE. If I like it, it's mine. If it's in my mouth, it's mine. If I had it a little while ago, it's mine. If I can take it from you, it's mine. If it's mine, it must never be yours. If it just looks like mine, it's mine. If I saw it first, it's mine. If you are playing with something else and put it down, it's mine. If I am chewing something up, all of the pieces are mine. If it used to be yours, get over it. If it's broken, it's yours.
Maggie was mother to one litter of 3 darling baby girls. She had problems giving birth and ended up having a c-section and almost died from the anesthesia. So that was the end of motherhood for Maggie; I would not put her life in jeopardy by trying to breed again. Maggie loved her little babies she was the best mom. Maggie showed us how much she loved babies when her daughter Lily had her first litter of puppies. The babies were about 3 days old when I found Maggie in the box with Lily and her babies. Lily seemed to enjoy the company but I took Maggie out of the box explaining that these were Lily's babies and she didn't need Maggie's help. Holding Maggie I felt something damp on her tummy turning her over to investigate I found her breasts full of milk. Maggie was not pregnant, not in season and had not been mated. Just having puppies in our home triggered all of her maternal instincts. We didn't let the babies nurse from Maggie but Lily let her help wash and cuddle the puppies.

Maggie died on Good Friday 2005 we were lucky enough to have had 15 wonderful years with this special little girl. I still see her in my dreams.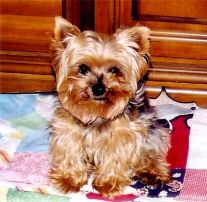 Baby's last photograph at 15 years old

Baby passed away August, 2005. She was adopted at the age of 7 years. As Baby grew older she decided that she wanted to be an only child and just couldn't stand it if Mom or Dad decided to give any love to the other yorkies.

Baby lived another 8 years in the wonderful care of Marion and Harvey Ralston. She adored her new parents and truly enjoyed being a spoiled yorkie princess.

Baby passed away cradled in Marion's loving arms.